Angela Haseltine Pozzi - Creative Consulting

Angela has extensive experience in leading art workshops for large and small groups. In this capacity, she is hireable to design and facilitate workshops and classes for all age groups.

Angela Haseltine Pozzi has been dedicated to quality arts education her entire life. She was raised among artists and is currently an exhibiting artist as well as arts educator.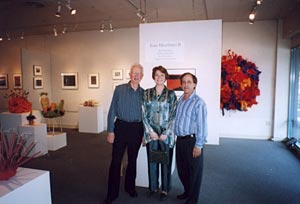 Her mother, Maury Haseltine, was a professional painter and printmaker and always made space in her studio for Angela to do work. Angela's father, James L. Haseltine, was the Director of the Salt lake Art Center and then Director of the Washington State Arts Commission. Angela and her parents and brother have had several art exhibits together over the years.

This rich arts background served as a springboard to Angela's dedication to the arts. At a young age she realized that few others had the same opportunities in the arts and vowed change that. While taking multiple arts and dance classes, and teaching art in various venues, she focused her energy in getting a bachelors and masters degree in Education.

Today she is an exhibiting artist of Mixed Media Sculptures and Jewelry as well as owner of Creative Art Supplies and offers arts classes and workshops for all ages and abilities.


For a resume... click here.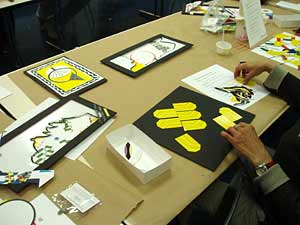 Workshops Possibilities
Art or Dance Education presentations and workshops can be geared to each institution's individual needs and age groups.
WASL Art Links grades 3 - 12

hands on math/art activities directly connected with skills tested on the WASL
Connecting the State Reading and Math Essential learnings with the kinesthetic, auditory and visual/tactile learner.

Multiple Intelligences and the Arts

using the visual and performing arts to reach all your students

Discipline Based Arts Education

Understanding how to view, critique and make art by understanding design elements and principles and learning from professional artists.

Geometry through Paper Arts
Egyptian Paper Weaving and Geometric Skills
How to approach Cultural and Ethnic Arts with respect
Art and Science Connections
Basic Design Using Collage Techniques
Learning to See - a Polaroid workshop
Creative Dance in the P.E. Curriculum
Reflections of Ancient Egypt
Op and Pop art of the 1960's and 70's
A Mixed Media Approach to Modern Art
Installation Art
Wearable Art
Paper Arts
Kirigami - the art of Japanese paper cutting
Mask-making
Clay - successful hand-building techniques for anyone
Weaving
Printmaking in the classroom
Art for the Visually Impaired and Blind
Art for the Developmentally Disabled
Parent and Child Art workshops
Art for Occupational Therapists
Art and Dance for the Physical Therapist
Visual Arts for Senior Citizens
Consulting Fees
All fees include expendable art materials used in a hands-on workshop for up to 20 people.
Materials for additional participants or clay workshops will have additional charges.
Slide lectures or presentations not using art materials are negotiable.
One day, 1-2 hour presentation and group discussion
$300
One day, 3 hour workshop presentation
$500
Full day, 6 hour workshop
$1000
One week, in school residency, up 60 students
$2,000

Hosting organization is required to cover travel, room and board.