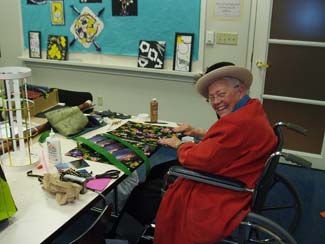 What is CREATIVE ART SUPPLIES?

MISSION STATEMENT:

To provide accessible supplies and curriculum for arts education that promotes respect for individuality, imagination, resourcefulness and creative problem solving.

CORE VALUES:
We are an organization that is dedicated to making the world a better place by using the power of art.
We care about helping disadvantaged citizens find purpose and expression though the use of artistic materials.
We make people happy!
PEOPLE
Experienced art educators and teachers develop our curriculum.
Job coaches assist in the success of our workers.
We train and employ developmentally delayed adults, as well as the visually impaired and blind to package art supplies.
SERVICES
We develop art curriculum and provide resources for open-ended art experiences for all populations
We develop curriculum, supplies and workshops for art museum and children's museum exhibits.
We offer teacher training and workshops in arts education.
We partner with communities to provide cultural opportunities for disadvantaged citizens.
SUPPLIES
We work with factories to process surplus materials into wonderful art supplies.
We search out unusual and favorite art materials to include in every bag to make every Creative Art Supply bag completely irresistible.