Creative Art Supplies
Kit Descriptions
of current and those soon to be available
Creative ART Supplies have been carefully selected to promote creative thinking and imaginative play for ages 6 to adult. Each package of tempting, unique materials has a specific art reference and suggestions sheet, plus the opportunity for multiple open-ended art activities such as: SCULPTURE, COLLAGE, CARD-MAKING, JEWELRY, TEXTURE RUBBINGS, WEAVING, COSTUME-MAKING, PUPPETRY, MASK MAKING, DRAWING, PRINTMAKING, AND MORE!

Open your Creative ART Supplies kit and dive into the world of creativity, make friends with artists and learn about ART! "See the world, live life, make art, have fun, think creatively, get thee to a museum, and BE AMAZED!!!"
Unique features found in Creative Art Supplies Kits:
1. Unusual supplies and ideas promoting open-ended projects, creative problem solving and positive self esteem.
2. Zippered plastic bags for organizing and reusing supplies.
3. Paper trays for dispensing materials.
4. High quality paper products.
5. An insert with detailed suggestions for use, and ideas for further research about famous artists.
$15.00 = small bag
$18.00 = medium bag
$24.00 = large bag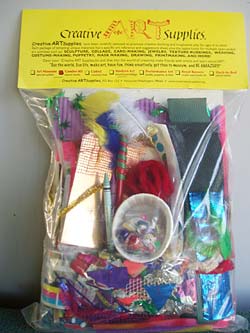 COMBO-KIT / mixed media (pictured)
This kit is perfect for setting up the artist's studio. A combination of wonderfully colorful supplies for creating multiple projects, such as: texture rubbings, collage, crowns, costumes, sculptures, toys, environments, greeting cards, weaving , jewelry, stick puppets, masks, mobiles, and more. A complete sampling of materials with something for everyone. Ages 6 through adult Retail cost: $24.00

MODERN ART KIT/ mixed assemblage
Enter the bold modern color palette of Alexander Calder, Roy Lichtenstein, Stuart Davis, Jean Dubuffet, Joan Miro and Louise Nevelson. Make relief sculptures, assemblages, mobiles, collages, jewelry, sculptures and modern abstract cards. Create unique designs with geometric and free form shapes, silver and black boards, red velvet, striped paper strips, fabric confetti and sticker dots and more. Ages 6 through adult Retail cost: $24.00

BASIC DESIGN KIT / through paper art
This kit inspires all ages to understand, learn, and use the basic design elements and principles of art. Create unique collages or 3D constructions out of specially made geometric and free form dye cut shapes and foam board. These unusual paper materials, beautiful color choices, and a booklet of innovative ideas makes this kit highly educational and extremely satisfying for all ages. Ages 10 through adult. Retail cost: $24.00 Group packets available.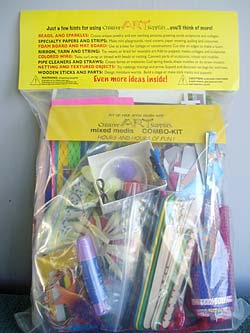 HINGE-IT KIT / wiggle and swing art
You can go 2D or 3D with these amazing movable art supplies. Make marionettes, snakes, dragons, shadow puppets, fans, crazy animals, people or just about anything! With a simple hinge technique and colorful parts, the world of movement opens up and creations just won't stop. No glue or scissors needed. Perfect for traveling or sitting up in bed. Ages 6 through adult Retail cost: $18.00 Group packets available.

EASY-TO-DO KITS / (E.T.D.) simple and successful art expression
Each single project kit is perfect for those folks that don't need extra challenges. Interesting shapes and colors, easy to hold supplies, and simple instructions and processes without a predetermined result offers success with a chance for real creativity and self expression. The participant will not need glue, drawing or scissor skills for many of these kits. Creative Art Supplies E.T.D. kits don't require refined fine motor skills or multiple decision-making tasks. Appropriate and fun for the elderly, young or in-between with special needs.

Each kit listed has different supplies and projects,
E.T.D. - Stamps and Cards
E.T.D. - Flying Bugs or Bird Mobile,
E.T.D. - Face Pictures,
E.T.D. - Texture Designs
E.T.D. - Sparkle Collages and Cards
E.T.D. - Paper Sculptures
E.T.D. - Foam Sculptures
E.T.D. - Necklaces
E.T.D. - Crowns

E.T.D. kit costs: $15.00 each
Ages 4 and up.
Appropriate for the developmentally delayed, stroke survivors and elderly.
Group packets available.

VISUALLY IMPAIRED/BLIND / (V.I.B.) tactile art
Each single project kit is developed for blind people and offers sensory stimulation and artistic expression. Creative Art Supplies V.I.B. kits use high contrast and bright colors along with large shapes and textural variety. Packaged with Braille instructions and large type so that everyone can participate. Simple and appropriate processes have been developed which lessen frustrations and increase success. Perfect for anyone needing sensory stimulation.

V.I.B. - Wire and Foam Sculptures
V.I.B. - Foam Core Constructions with Stickers
V.I.B. - Texture/Shape Patterned Necklaces
V.I.B. - Feathered Masks
V.I.B. - Fish in a Net
V.I.B. - Miniature Gardens
V.I.B. - Bugs, Beasts and Dolls
V.I.B. - Puppets
V.I.B. - Textured Landscapes
V.I.P. - Textured Cityscape
V.I.B. - Musical Shakers
V.I.B. - Sound Collages

Ages 6 through adult
V.I.B. kit costs: $15.00 each
Group packets available.

MATH-ART KIT / too much fun to be math!
Creative problem solving and decision-making are at the core of both Math and Art. Sort, group and count beads then string symmetrically patterned necklaces. Measure checkered or graph paper and create amazing mosaics, geometric pictures, and 3 dimensional wonders! Use estimation powers and practice basic math skills while designing a castle. Create a miniature formal garden with congruent shapes. Ages 8 through adult Retail cost: $24.00 Group packets available.

REFLECTIONS OF ANCIENT EGYPT
This kit offers you the color pallet, textures, and design motifs from ancient Egypt. Learn a bit of history and see how the Art Deco period was influenced by the opening of Egyptian tombs. Learn the background behind traditional symbols, shapes, colors and designs found in Egypt and then dive into these beautiful supplies to create your own treasures. Glass beads, metallic papers, golden fabrics and more can be combined for unique constructions, mosaics, collages, cards, necklaces, headdresses and more. Ages 6 through adult. Retail price: $18.00

STUCK IN BED KIT or STUCK IN THE CAR KIT
This supplies and projects are designed for successfully working without a table. Trays and zipper bags help you say organized as you create amazing things out of paper, wood, stickers, pipe cleaners, ribbon and wire. NO glue needed. Pre-cut parts and specific projects that have simple steps and choices will make tired folks happy. Decorate your window with a dangling bug or bird. Startle you friends with a wild mask or decorate yourself with a silly hat! Ages 4 and up. Retail price: 8 individual project packets in one large bag = $24.00 4 individual project packets in one medium bag = $18.00

CUBIST CONSTRUCTIONS KIT / be a 3D builder!
A totally three-dimensional kit. Using foam board shapes with special connectors, wooden parts, colored wire, pipe cleaners, mechanical parts, plastics and unusual beads, create your own great art. Learn about the art era of Cubism and abstraction and play with some of the same ideas as the masters. These supplies are also great for creating toy environments, castles or props for dramatic play. Ages 6 through adult Retail price: $24.00 Group packets available.

TEXTURES GALORE KIT/ printmakers delight
A delicious mix of textured items for creating tactile collages, which can be inked or rubbed with crayons to create prints. Also included is an assortment of materials and ideas for making your own artistic stamps and mono-prints. Mat board and foam board included as well as a selection of beautiful papers, stamp pad, markers, and large crayons. Ages 10 through adult Retail price: $24.00 Group packets available.

OP AND POP ART PARTY KIT / for 4 people An art party in a bag!
Dive into wild, bright and neon colored fabrics, plastics, wire, beads, patterned paper, pipe-cleaners, paper strips, fake fur, velvet paper, and mask templates for art party fun. Step back to the 1960's and '70's with mobiles, flower power collages, and cool body ornaments. Create wild twirling tops and make crazy art hats Learn about Andy Warhol, Roy Lichtenstein, Victor Vasarely and others. Ages 6 through adult Retail price: $30.00 for 4 people

PERFORMANCE ART KIT / masks, crowns, hats, wands and costumes
Have an artistic dramatic event with this bag full of fun. Create one of a kind masks, crowns, hats, jewelry, magic wands, props and costumes. Enough projects for multiple art and play times. This kit encourages creative thinking and imaginative cooperative play with all ages. Excellent for language development and therapy purposes. Ages 4 and up Retail price: $24.00 Groups packets available.

HUMAN- KINDA KIT/ collages, puppets and dolls
This kit is all about people. Create collages with paper shapes, fabric, wood, stickers and drawing. Make your own stick puppets and put on a play. Create environments, families and work places. Learn about artists like Jacob Lawrence, Miriam Shapiro, Picasso, and others. Materials for making people of all colors and types are included. Ages 4 through adult Retail price: $18.00 Art Therapy appropriate Group packets available.

BUGS AND BEASTS KIT/ from the sea, earth and sky
This kit offers wonderful materials for creating a myriad of fanciful creatures with scales, feathers, hide, fur or skin. Supplies such as specialty papers, fancy yarns, patterned fabrics and interesting plastic and wooden parts along with colored wire and beads lets imagination come to life.. Design you own creations and learn about other artist's that look at animals for inspiration. Ages 4 and up Retail price: $24.00 Group packets available.

WORLD PATTERNS KIT/ reflections of many cultures
Learn about how patterns are used around the world in art. This kit teaches you how to create your own weavings, stamp prints, and beads. Patterned fabrics, unusual papers, yarns, wire, raffia, and other unique items allow you to make a variety of different projects.. Natural colors with earth and jewel tones are emphasized. Ages 10 through adult Retail price: $18.00

IMPRESSIONISM KIT/ collage and prints
This kit uses the soft and natural color palette of the impressionist painters and applies it to collage materials. Make a sun-lit collage with layered fabric, yarns and tissue paper. Experiment with texture rubbings and watercolor printing methods to create an impressionistic affect on a picture or card. Ages 10 through adult Retail price: $24.00 Group packets available.

ROYAL ROCOCO KIT/ glitzy crowns and jewels
Enter the world of royalty. Create the regal look with pearls, velvet, gold, silver, sparkles and glass jewels. Make a crown to bedazzle any prince or princess, a kings white wig and beard or the queens fancy fan. Decorate invitations to the royal ball and create a miniature version of your castle to show all your friends. This is the life! Ages 4 and up Retail price: $24.00

RAINY DAY ART KIT / pray for rain!
You'll want it to rain so you can use this Creative Art Supplies kit. We've created an art making kit full of things that float and make use of water falling from the sky! Make amazing watercolor pictures with rain! Create expanding sponge sculptures and waterproof boats with foil people. Make mobiles that move when rainwater hits them. Don't stay inside! Get outside, get wet and get creative, all at the same time! Ages 4 and up. Teen and adult appropriate Retail price: $24.00 Group packets available.

BOARDGAME KIT/ great family time fun
Use this kit to make a lasting treasure which you will love to use. Ideas and supplies for creating your own original game with a fold out board, precut cards, wooden parts and beads for making your own markers, supplies for a spinner and dice, markers, line makers, etc. We give you a few hints for making a board game successful and you get to do the rest. You can make it as simple or complex as you wish. A great family creative activity. Ages 6 through adult Retail price: $24.00